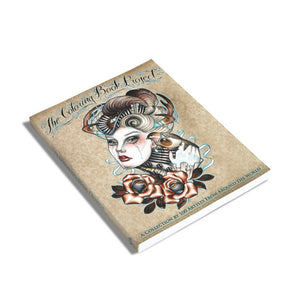 The Coloring Book Project 1: Case of 18 Books
Sale price Price $225.00 Regular price Unit price / per
IMAGES ARE FOR SINGLE BOOKS - CASE PRICING IS FOR 18
The Coloring Book Project: A Collection By 100 Artists From Around The World is Available Now!
Artists of all ages are invited to add their own color and creativity to the pages found within The Coloring Book Project: A Collection by 100 Artists from Around the World. This wonderfully imaginative book brings together inspiration and ingenuity from an all-star cast of artists, each contributing their own enchanting sketches, and then handing them off to you to complete with your own touch of artistic magic. With 215 pages of designs to color and activities to execute, colorists can dive into the pages full of tattoo-related artwork and escape to a creative world through their pencils, markers, and crayons. The Coloring Book Project compositions are not intended as tattoo flash, but rather, pay homage to the ink industry and are perfect tools to bring out the artist in you!
A portion of the contributing artists are Don McDonald, Gunnar, Greg "Craola" Simkins, Durb Morrison, Mike DeVries, Jason Stephan, Roman, Josh Duffy, Katelyn Crane, Jeff Johnson, London, Jamie Lee Parker, Sung Song, Steve Morris, Timothy Boor, Timmy B, Whitney Lenox, Mario Rosenau, Kyle Cotterman, Ty McEwen, Danny Black, Brett Herman, Andy Engel, DJ Minor, Jeremy Miller, Julian Zeff, Shawn Williams, Hilary Jane, and many more!!
If your wondering exactly what age group The Coloring Book Project: A Collection By 100 Artists From Around The World is intended for, we would say "It's PG." If your sensitive about your child coloring in artistic skull drawings, or scary faces, this might not be the right coloring book for your child. It's packed with tattoo related artwork, lots of beautiful roses, birds, anchors, snakes, geisha girls, robots, bio-mechanical designs, etc. Take a look at some of the sample pictures..Thanks and Enjoy!
215 Pages
Softcover Book
Only $20.00 plus s&h