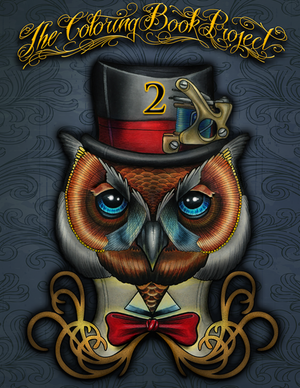 Digital Download - Coloring Book Project 2 (18 Page Collection)
Sale price Price $3.99 Regular price Unit price / per
18 Coloring Book Illustrations from Coloring Book Project 2.

It's the era of information overload, technological advances and the rise of new generations. It's a day further from reality as we know it.
In this day and age, surely 85% of everyone that picks this up will flip right over this page and get straight to the good stuff. But Wait! Just stop for a minute and take it back to the days as a child growing up. You were fill of ideas and overloaded with energy, feverishly thumbing through your first coloring book to find that special image to bring to life. Art is like a dream. Art can have truth, fantasies, life experiences, and thoughts. Art that stands out is usually open for interpretation but I'm sure we all believe good art tells a story.

Is art strictly subjective and relative? I believe good art is achieved when it makes you think, when you can view an artistic creation and slip into your own dream. The goal of this project is to see what I could gather from artists, worldwide. To see how each individual artists expresses their stories using only lines and illustrative skills. It's not just what's depicted in this collaborative collection, but more or less what it took to create this book should inspire. Through their hard work and dedication each artists in this publication creates their personal style and expresses their story, all of which impacts the genres of tattooing and illustrative art today.

Thank you for taking the time to read this. It is an absolute honor to bring to you a sampling of the best and compelling showcase of illustrative expressions from both The Coloring Book Project 1 and The Coloring Book Project 2.