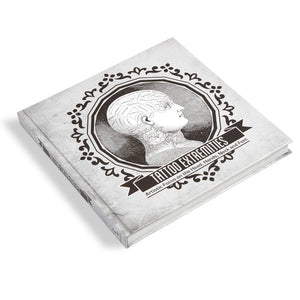 Tattoo Extremities: Artistic Focus on the Head, Hands, Neck and Feet
Sale price Price $22.50 Regular price $25.00 Unit price / per
Tattoo Extremities: Artistic Focus on the Head, Hands, Neck and Feet
Tattoo Extremities is a High-Quality, Hardcover, Coffee Table Book Published by Memento Publishing with 240 Full Color Pages that is 10 inches by 10 inches in Size. Tattoo Extremities Features 170 Tattoo Artists with Over 800 photos!
Only $25.00
Placement of tattoo art is an important facet of each design and has the power to turn each piece into an extraordinary aesthetic experience. Throughout the years, the extremities of the body have been utilized to tell stories, depict ritualistic significance, and serve as the canvas for exhibiting grand artistic projects. Though not all tattoo collectors choose to decorate their hands, heads, and feet, many of those who do expose the world to some of the tattoo industry's finest accomplishments – proudly displaying their artwork for all to see. This book features an extensive body of tattoo work from tattooists around the globe. These talented artisans provide us with distinct styles, genres, and creativity, all inked upon the far-reaching limbs of the body. Enjoy an intriguing artistic journey that honors those bold enough to wear the ink and the artists skilled enough to make their imaginative concepts come to life.
Here is a portion of the artists that have tattoo work featured in Tattoo Extremities… Nick Baxter, Jeff Ensminger, Bob Tyrrell, Paul Booth, Guy Aitchison, Jesse Smith, Stefano Alcantara, Mike DeVries, Roman Abrego, Sean Herman, Josh Woods, Myke Chambers, Jim Sylvia, Dan Hazelton, DJ Minor, John Anderton, Jasmin Austin, Jeremy Miller, Kyle Cotterman, Timmy B, Larry Brogon, Jeremiah Barba, Ben Corn, Carson Hill, Cory Norris, Tim Kern, London Reese, Russ Abbott, Christian Perez, Uncle Allan, Sweet Laraine, Jeff Zuck, Johnny Jackson, Tutti Serra, Ron Meyers, Cory Ferguson, Andy Engel, Josh Duffy, Shawn Barber, Franco Vescovi, Carlos Rojas, James Kern, Mick Squires, Kore Flatmo, Steve Byrne, Petri Syjala, Ty McEwen, Kirk Alley, Timothy Boor, Ryan Hadley, Jess Yen, Jo Harrison, Don Mcdonald, Aaron Bell, Daniel Chashoudian, Juan Salgado, Jason Stephan, Gunnar, Dan Smith, Bugs, Jamie Parker, Brett Olsen, Steve Morris, Fabz, Marc Durrant, Byron Drechsler, Phil Robertson, and many more!